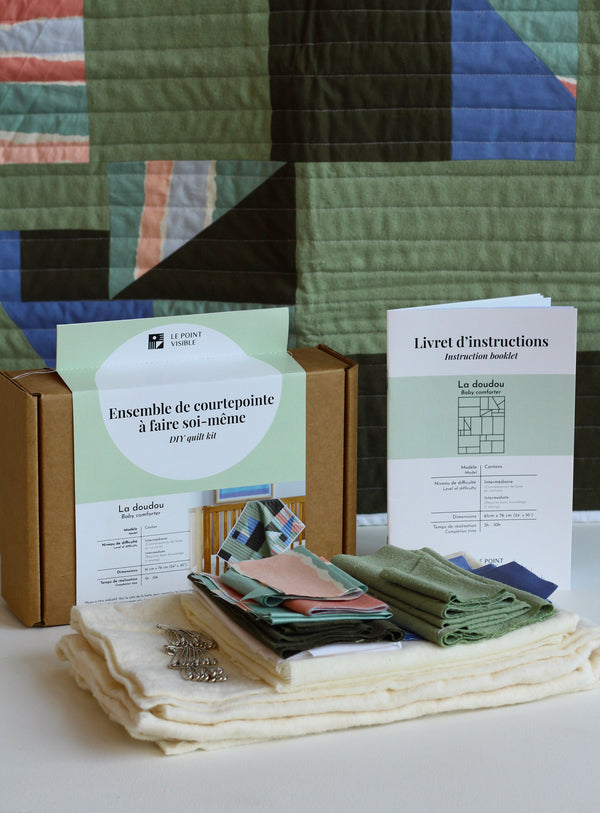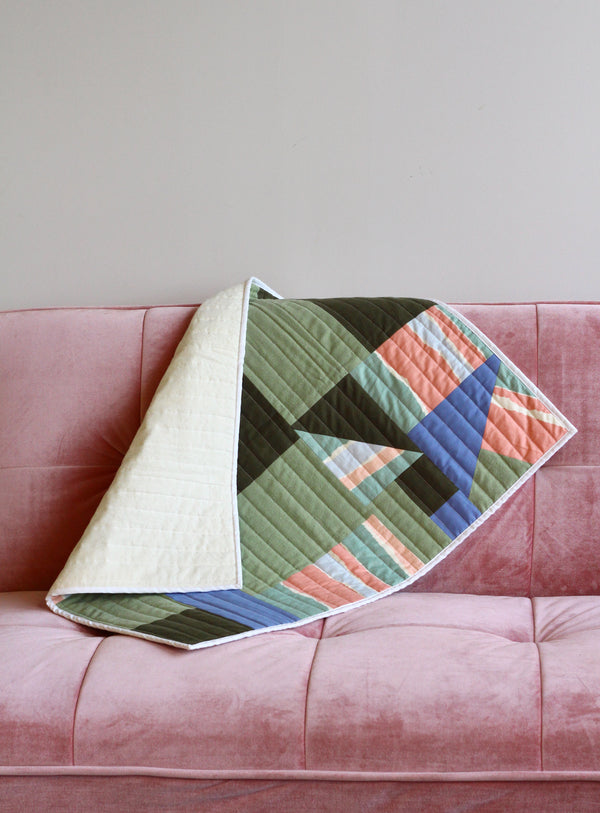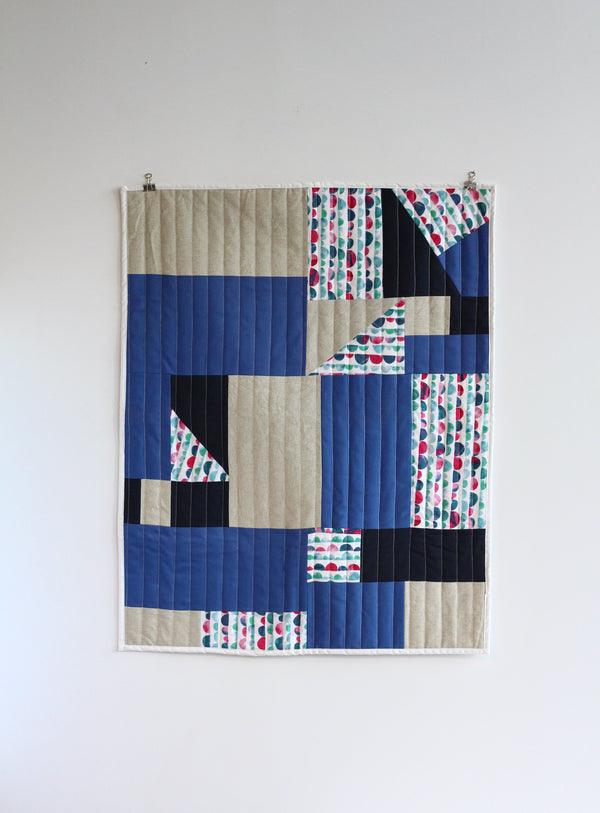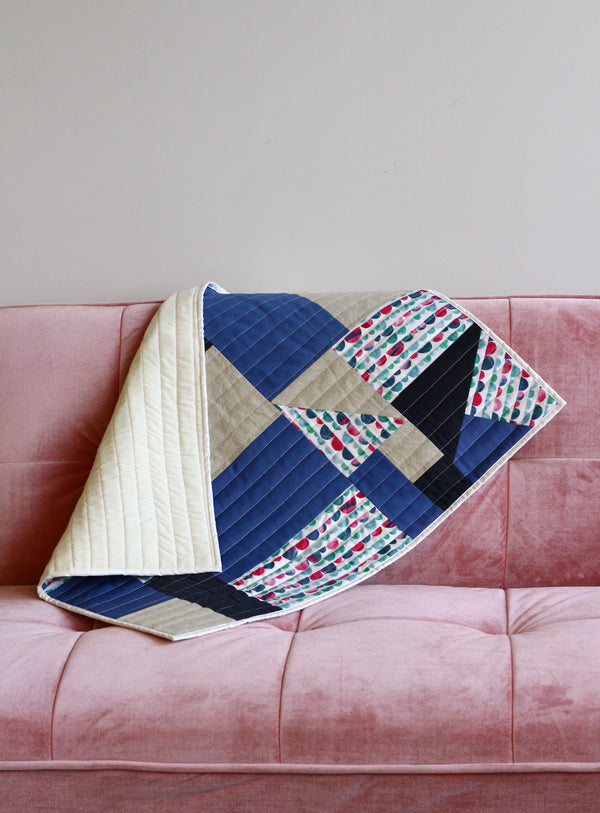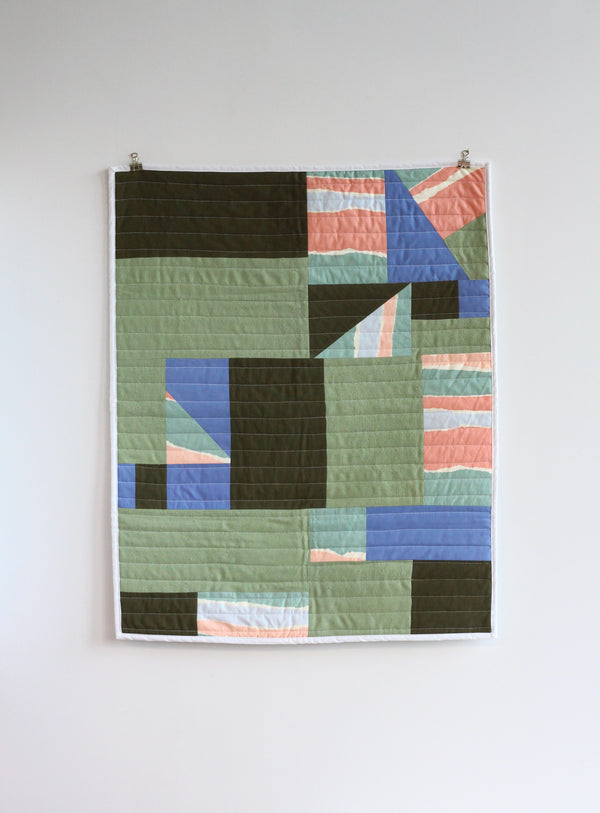 Baby comforter - Do-It-Yourself (DIY) quilt kit
Learn to Quilt: The joys of Transformation
This kit contains everything you need to learn the basics of quilting and more!
You'll be guided step-by-step through the sewing process, and provided with learning tools such as an instruction booklet, glossary and video clips. You can use these tools as a reference for future quilting projects.
The comforter project is designed for intermediate level sewers (must have at least basic sewing skills). 

LEVEL OF DIFFICULTY
intermediate 
A comforter: the ideal gift for yourself or someone else


The comforter format is ideal for learning how to quilt and for creating your first blanket project. Quicker and easier to handle than a bed cover, the comforter project is an accessible way to start learning.

The baby comforter, an object of comfort and a symbol of our childhood memories, is the perfect object to quilt. Resistant to the test of time and use, this comforter will accompany little ones for as long as they wish. A gift for yourself or for someone else!

Materials and dimensions
The DIY quilt kit contains everything you need to learn the art of quilting. Once you've completed the process, in addition to achieving spectacular results, you'll learn about the main characteristics that make quilting such a unique textile.
Included materials
Pre-cut recycled fabrics
Safety pins
100% cotton batting
One (1) illustrated instruction booklet (bilingual)
A maintenance guide
(5) online tutorials
Required supply
Sewing machine
Thread and scissors
ron
Masking tape
Ruler Erasable pencil (optional)
In addition to the instructions, you will have access to an array of videos to learn all the tricks of quilting on your own 

*All fabrics are upcycled materials, i.e. new materials that represent too great a burden to be used in conventional industry (end of rolls, coupons, designer scrap, etc.).
Dimensions
61cm x 76cm (24" x 30")
Shipping
For purchases of $200 or more in Canada and $400 or more in the U.S., we offer free delivery (excluding custom orders).
All orders are processed and shipped within 3-4 business days of receipt of order, unless otherwise specified.
Each order is shipped according to the shipping method selected at checkout.
For more information regarding delivery and pick-up at the workshop, please refer to our delivery policies.